Terms & Conditions
Terms and Legal
These are the official terms of use for scullysnz.com (the '
website
'), and Scullys Limited's mobile, Facebook and Twitter applications (the '
applications
') (collectively '
the sites
'). The content and services available on the sites are provided to you by Scullys Limited ('Scullys', '
us
', '
our
', '
we
') subject to the following terms and conditions.Please also review our Privacy Policy and other policies you may find throughout our sites in connection with certain functionality, ordering information and/or promotions. By accessing or using the sites, you are acknowledging that you have read, understand and agree to be bound by these terms and conditions.Scullys reserves the right to update or modify these terms and conditions at any time. When changes are made, we will make the revised version available on this webpage and update the date above.
Copyright
All information and content available on the sites, including but not limited to Scullys name and logo, product images and descriptions, site design, text, graphics, images, trademarks, the selection and arrangement there of are the property of Scullys Limited and are protected by copyright law. No part or portion of this site may be copied, sold or used in any manner without the written consent of Scullys Limited.
Disclaimer
Our sites provide general information about Scullys and the products and services we offer. The information contained in the site has been prepared solely for the purpose of providing information about Scullys. We reserve the right to change, delete or move any material on the site at any time without notice. Scullys shall not be liable to you or any third parties for any direct, indirect, special consequential or punitive damages allegedly sustained arising out of your access to or inability to access the site. This includes viruses alleged to have been obtained from this site, your use or reliance on the site or any of the information or materials available on the site, regardless of the type of claim or the nature of the cause of the action.
Using the sites
Your right to use the sites is personal to you. You may not authorise others to use the sites and you are responsible for all of your own use of the sites. Content, information and advice given on the sites are free of charge (unless otherwise stipulated). You are responsible for your own network and connection charges.
Use of products and services
To purchase from ScullysNZ.com, you must be 18 years or older. The products and services available on the sites, including any samples Scullys may provide to you, are for personal use only. All of the products purchased from the sites should be used in accordance with the product's instructions, precautions and guidelines. Please contact us if you have a question regarding shopping on Scullysnz.com.
View procedures relating to delivery and returns.
All prices displayed on Scullysnz.com are represented in local currency. Where applicable, local taxes are shown and included in the price. All prices are correct at time of publication; however, we reserve the right to alter prices for any reason at any time. Products displayed on Scullysnz.com may be purchased using a secure online Visa or MasterCard transaction facility. Credit card transactions are processed in New Zealand. Some banks may charge an overseas transaction fee and/or foreign currency exchange fee for purchases made outside of New Zealand.
Promotions and offers on the sites
All promotions and offers are exclusive to Scullysnz.com unless otherwise stated. Any promotion or offer may not be used in conjunction with another unless otherwise stated. Promotions and offers are subject to availability and Scullys reserves the right to revoke promotions and offers at any time and for any reason without notice. A minimum spend or designated number of products purchased may be required to qualify for a promotion or offer. Any such requirement will be outlined in the promotion or offer details. Scullys reserves the right to run promotions and offers for sets periods of time and in specific geographies and not others if it so chooses. Free gifts cannot be exchanged for cash, resold by the purchaser, or returned for refund or replacement unless the product is faulty. Any decision made by Scullys regarding promotions and offers on the sites is full and final.
No reseller activity
You may not sell or resell any of the products, services or samples you purchase or otherwise receive from us. We reserve the right, with or without notice, to cancel or reduce the quantity of any order or products or services to be provided to you if we believe, in our sole discretion, may result in the violation of our terms and conditions.
Security
Transactions made on Scullysnz.com are protected by the latest security mechanisms and are only used for the purpose of transaction fulfilment. We do not store cardholder information. We use the secure DPS Hosted Payment Solution to process online orders. You'll be able to see your card being authorised and debited in real time, all in an SSL secure environment. The Hosted Payment page enables us to offer you a safe and quick online shopping experience. DPS is committed to protecting the security of your data. DPS uses a variety of security technologies and procedures to help protect your personal information from unauthorised access, use or disclosure. When it transmits sensitive information (such as your credit card number) over the internet, the information is protected through the use of encryption, such as the Secure Socket Layer (SSL) protocol. Credit card details stored on the site are encrypted using 168bit 3DES encryption. DPS is also certified AIS compliant.
Cookies
We use cookies to provide a better overall experience for our users. Stored on your computer, these cookies include information about your interactions with the Scullys site. They are used by our content management system to remember your details. This enables us to make your future site visits more enjoyable, with the most accurate information possible. Cookies used in the Scullys site:
PHPSESSID: This cookie remembers the preferences and settings you have made. If blocked, parts of the site will either not work or will be inaccessible to you. The cookie is deleted when you close your browser.
Past Member: This cookie remembers if and when you have previously logged in. It does not store any of your personal information, but is used for registered users to update their personal record in our database. It is stored for 90 days before deletion.
alc_end: This cookie is used only if you tick the 'Remember email and password for next time' box upon logging in. It is stored for 90 days before deletion.
ScullysCountry: This cookie remembers which country you have selected in order to provide the best information relating to your location. It is stored for 90 days before deletion.
Learn more about how we use cookies for Google Analytics tracking.
Third party links
Scullys may provide links to other websites or applications (collectively, 'third party websites') as a service to those interested in this information. Scullys does not monitor, approve or have any control over any content located on third party websites. The inclusion of any links to third party websites does not imply any association or relationship between Scullys and the third party website. Scullys does not guarantee, endorse or adopt the accuracy or completeness of content on any third party website. Scullys is not responsible for updating or reviewing content on third party websites. You use third party websites at your own risk.
Reviews
We may use reviews submitted to Scullysnz.com for promotional purposes.
Scullys Loyalty Program
General Terms & Conditions

As of 01/12/2021
The Scullys Loyalty Rewards Program ('the Program') allows members of the Program to earn points for purchases made on the Scullys website. 

The Program is currently exclusive to online purchases on the Scullys website, the Program may extend to purchases at the Bulls flagship store in the future.

Customers can join the Program by registering at

https://scullysnz.com/my-account/

to become a Scullys website member and selecting the checkbox to join the Program.

The Program launched on the 1st of December 2021, existing members of the Scullys website will be automatically added to the Program.

Being a Scullys website member and using the Program deems these Terms and Conditions ('Terms') to be accepted by the member. 

The Terms may be amended from time to time, the revision date will be shown under the Terms. The revisions may make include, but are not limited to, any of the following changes: (i) increase or decrease the number of points for each purchase; (ii) increase or decrease the number of points required to claim a reward and/or to qualify into a Tier; (iii) change the type of rewards received in a Tier; (iv) change the method of becoming a member.

The accrued points are merely a means of reward for the member; it does not constitute as property of the member and are not transferable between members.

Abuse of the Program and/or failure to abide by these Terms, as determined by Scullys may result in disqualification from Programme participation in the Program, forfeiture of all points accrued and Tier rewards.

A member can choose to opt out of the Program at any time in the My Account page.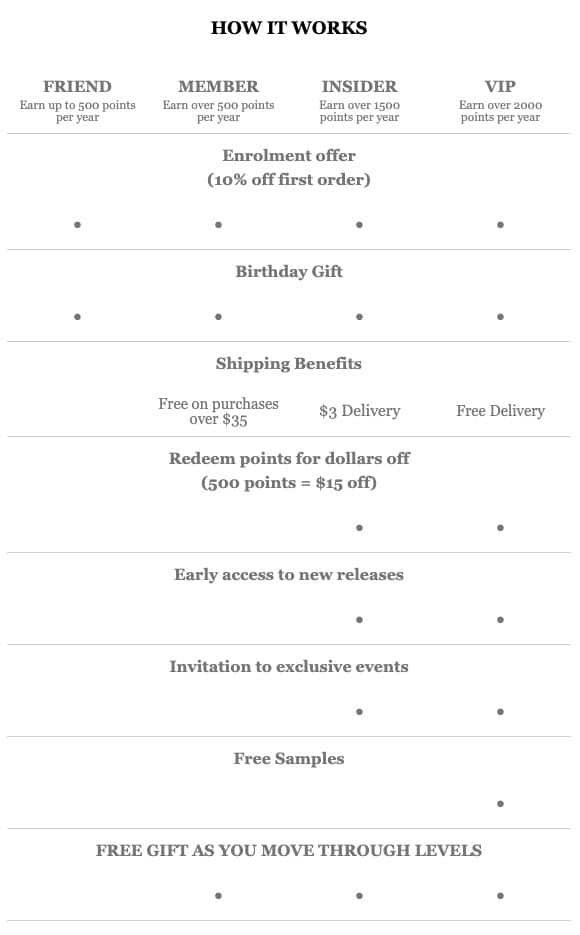 Collecting Points
Members must be logged in at the time of purchase or completing an eligible points activity to earn points; new customers must register prior to making a purchase in order to earn points.

Members will collect points based on the amount spent, for every $1 spent, the member will receive 2 points; customers can see how many points they will be able to earn on the product page or at checkout. 

Refer a friend using the unique link generated from the member's My Account page to earn 250 points (the referred friend will earn 50 points as well) if the friend becomes a member or makes a purchase. The friend must not already be a member, this can only be done once for each friend referred.

Review a product the member has purchased to earn an extra 50 points.

Points will expire 1 year after the date on which they were received. Points do not have any value until they are redeemed for rewards, and cannot be redeemed for cash.
Claiming a reward
Points will be accumulated and the balance can be found in the member's My Account page. 

When a member has sufficient points to earn a reward, the Member will be notified at checkout and the reward will be automatically added to their cart when the member makes their next purchase.

The Program consists of 4 Membership Tiers:

Friend (earn up to 500 points per year)

Member (earn over 500 points per year)

Insider (earn over 1500 points per year)

VIP (earn over 2000 points per year)

The members annual spend is calculated from the day the member first joins the Program for a period of 365 days, this will reset each year.

A member must reach the annual points earned criteria to keep their current membership tier.

The benefits of each Tier are outlined in the 'How It Works' table.

The benefits include:

10% discount Enrolment Offer (automatically applied at checkout on the member's next purchase)

Birthday Gift (details will be emailed to the member 7 days before the member's birthday)

Shipping Benefits (VIP Tier receives free shipping on all purchases, Insider has a flat rate $3 shipping, and  free shipping will apply for purchases over $35 for Member, and $50 for Friend)

Redeem 500 points for $15 off (this can be claimed at checkout if the member has sufficient points)

Early access to new releases (this will be emailed to eligible members when Scullys have new product launches)

Invitation to exclusive events (the details will be emailed to eligible members when Scullys have exclusive events)

Free samples (automatically added to the eligible member's cart from time to time, based on availability and at the discretion of Scullys)

Free gift as the member moves up in Tiers (will be automatically added to the eligible member's cart, the type of product is at the discretion of Scullys)

Rewards such as the Free Gift received for going up a Tier or Free Samples will be shipped with the member's next purchase to the nominated address of the member entered at checkout.
Personal information
Your personal information is collected to enable Scullys to provide you with the benefits of the Program. 

All personal information provided by you will be held by Scullys, in accordance with its obligations under the Privacy Act 1993. 

You have the right to update or correct your personal information, to opt out of your Membership, and to also opt in/out of receiving promotional Newsletters from Scullys in the My Account page.